#DentistLivesMatter | No Blackhat SEO or Cavity Creeps!
Are you a dentist or part of the staff that manages a digital marketing dentistry campaign in a competitive city and wonder why the competition dominates the first page of Google?
Then, #DentistLivesMatter! [Stop the Cavity Creeps – NO JUSTICE, NO PEACE…]
#DentistLivesMatter
Meme 1: Blackhat SEO is a Cavity Creep (download)
Meme 2: End Blackhat SEO | End Cavity Creeps (download)
Meme 3: Justice for Our Lives | End Blackhat SEO (download)
Are you fortifying yourself from Black Hat SEO?
Then, it's time to take it to the competition and the cavity creeps and combat the injustice that threatens your practice.
What's missing from these memes that help protect your dental practice?
Answer: Customized Keyword Research and Analysis – See Original Dentist SEO Research!
Email for your Customized Keyword Research Report or visit SEOgame.com – Instant Keyword Research Tool – Phone# 801-921-3625
Click "Continue Reading" to review and share all the memes:
Creepy as it sounds, there are hundreds of dentist keyword phrases that could bring exclusive traffic to your website that your competition is hoping you never recognize. Do you know which keywords they are and do you have a plan to dominate the competition?
– Protect yourself and  see the original research!
Email us today and we'll customize with your city's estimated impressions per month and add a personal ranking report for your top dental keywords – Phone# 801-921-3625
Keyword phrase research & analysis is a crucial part of a web strategy and so are these memes for dentists to combat the competition.
Please share these #DentistLivesMatter images/memes with your dentist or marketing company before the cavity creeps get you.:
Meme 1: Blackhat SEO is a Cavity Creep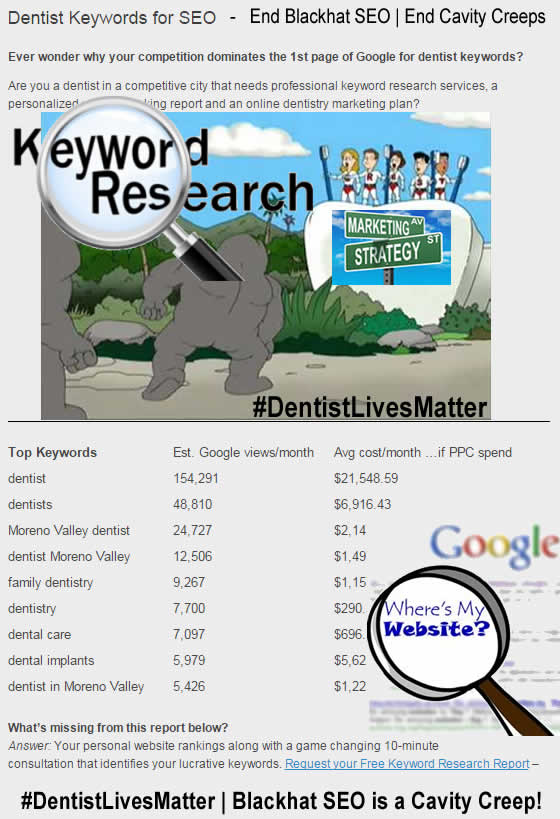 ---
Meme 2: End Blackhat SEO | End Cavity Creeps (click here to download meme)
---
Meme 3: Justice for Our Lives | End Blackhat SEO (click here to download meme)